Season Long players! This one is for you!
Setting the Stage
You are in a snake draft and Todd Gurley and Le'Veon Bell are off the board. You have the 3rd pick in the draft and are deciding on who to take but ultimately don't feel confident in making a decision. With the conversations I've seen in almost every setting: twitter, the workplace, and in real life situations, it is almost 50/50 on who is the better player with no real side having an edge. The popular pick is Zeke at #3 but those of you who played Fantasy Football 2 seasons ago, still remember the greatness that was David Johnson. This is tough! What do you do? In this article, I look to answer the question and make that decision for you.
Ezekiel Elliot (Dallas Cowboys)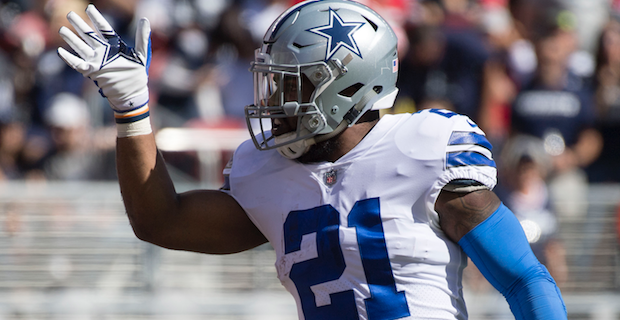 We all know the narrative for Zeke's last season with the suspension and the question marks that followed him throughout the season. Through only playing 10 games in the season, Elliott managed to rush for almost 1000 yards averaging 4.1 YPC to go along with 7 Rushing TDs and 2 Receiving TDs. Approaching the 2018 season, numbers-wise, according to PFF Fantasy, Ezekiel Elliott projects to opens up with an 83.1 Grade, ranking 1st among RB's in Rushing Yards and Touchdowns and 4th in Fantasy Points with a total of 311.4.
Pros
With offseason changes that featured Dez Bryant and Jason Witten leaving the team (almost 40% of target distribution), it is clear that the Dallas Cowboys will look to transition to more of a run-heavy offense this season. With almost no replacements aside from notable addition Allen Hurns and rookie sensation Michael Gallup, PPR wise, look for Ezekiel Elliott to be more involved in the passing game that he hadn't already seen in the past. According to PFF, the Dallas Cowboys are ranked 2nd in offense line rankings. Look for veteran left guard Tyron Smith and second-round pick newcomer Connor Williams inserted at Center to protect Elliott in the running game this season. This is where Zeke benefits and why he will lead the way this season in rushing yards. Expect plenty of rushing opportunities for workhorse Ezekiel Elliott this season.
Cons
On the other side for Zeke with teams knowing the lackluster threat Dallas has with its wide receivers, look for them to stack the box and give Elliott trouble more towards this season than last. With the ball projected to not move as efficiently down the field as last season, fewer red zone opportunities are definitely a possibility compared to last season… and that means fewer TD chances.
David Johnson (Arizona Cardinals)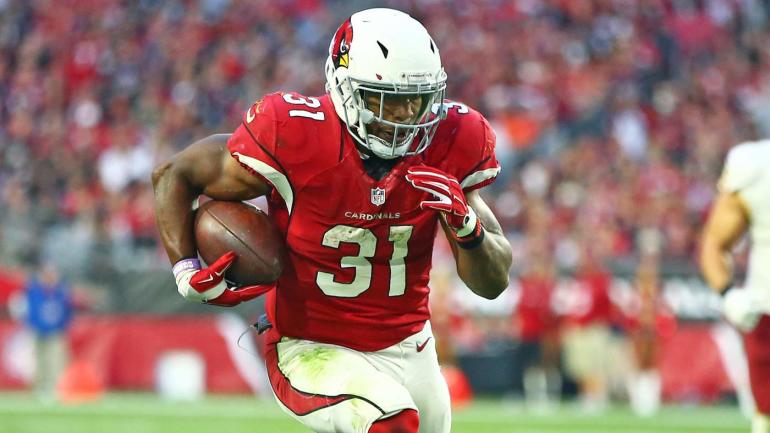 I know for my auction league at least, David Johnson went for $67 and was projected to be the best RB of the draft. Unfortunately, after suffering a broken wrist in Week 1 at Detroit, his season came short with him missing the rest of the season. Looking back to the previous season, according to PFF Fantasy, David Johnson sported an 87.8 Grade Ranking 8th in Rushing Yards, 7th in Touchdown, but 3rd in fantasy points with a total of 311.6. Coming back this season with a healthy wrist, look for David Johnson to resume his campaign for best player in the league.
Pros
One thing notable that David Johnson brings to the table that sets himself apart from other RB's is his pass catching abilities. In the 2016 season, Johnson ranked 1st in his position with an astonishing 80 receptions at an average of 11 YPC. Those receptions ranked higher than WR's like AJ Green, Brandin Cooks, Greg Olsen, & Emmanual Sanders to name a few. Especially in PPR league, where there is an extra point given to 1 reception, David Johnson stands out here. To pair with WR like catching abilities, Johnson also is a bully when it comes to rushing. Getting to the 250+ rushing attempts mark would be more than ideal and ESPN projects him to have 266 and accomplishing the 1000 rushing milestone. Let's also not forget that he still will have the same speed he had in 2016 being that this was not a leg injury but instead a wrist injury.
Cons
Everyone all knows the obvious downfall to DJ this season and that is the chance of re-injury to his wrist. When something breaks, it takes time to heal and the injury concern is definitely one to consider. While it can damage a career, it doesn't all the time ends one.  Another thing to keep in mind, the chemistry David Johnson had with Carson Palmer is now gone after him retiring. With new QB Sam Bradford at the helm and a solid Wide Reciever group featuring: Veteran Larry Fitzgerald, Ex-Cowboy Brice Butler, JJ Nelson, and exciting newcomer Christian Kirk, it will be up in the air with the amount of target share David Johnson receives in the passing game. Finally, according to PFF, the Cardinals rank 27th out of 32nd in offensive line rankings so rushing could be harder than it should be for David Johnson.
Who to Pick?
I'll just get this out of the way first, you are not making a wrong decision with either pick you make at this spot. When it comes down to overall skill and tools that are brought to the table, I'd pick David Johnson over Ezekiel Elliot, especially in PPR leagues, this season to be in all of my fantasy teams. While you are getting a guaranteed floor and consistency of rushing attempts, yards, and opportunities from Zeke, you aren't getting the ultimate hybrid running and receiving big-play opportunity David Johnson can produce in any given week.
Sure it's risk-seeking taking the guy that last season had a season-ending injury, but you can't ignore the pure upside and homerun swing David Johnson brings to the table with what reports are saying that he is fully healed and ready to make some noise especially in his contract season. I even predict this will be the year he returns with vengeance having a 1000 rushing and 1000 receiving yard performance accomplishing a feat that only two players (Roger Craig and Marshall Faulk) were able to do in the past in the entire history of the NFL!
-FanDuel Bomb
If you enjoyed reading this, check out my work on twitter @fanduel_bomb. Looking forward to a great NFL Season and am glad you are a part of the ride.