What's up guys! It's Kiliman ready to go for the first week of the NFL season!  I have many FanDuel lineups set-up for Sunday and would love to share some of my favorite plays at the running back position.  This week is an interesting slate with a bunch of different options at running back.  Obviously, not every viable play will be discussed but the backs listed below are some popular plays that I will definitely plug in for my cash-game lineups with one GPP sleeper that could be a great tournament play.
Start:
Alex Collins (FD: $6700 DK: $5600) vs JAX
Alex Collins has a great matchup in week 1.  The Buffalo Bills have a decent secondary and will rely heavily on their safeties Micah Hyde and Jordan Poyer to lead the defense.  Because of this, expect a lot of run game due to the porous front seven of the Bills.  Insert Alex Collins.  Coming off a strong season with 973 yards on 4.6 yards per carry and 6 touchdowns, Collins has taken over the Baltimore backfield and should get a lot of touches this season especially week 1.  The Ravens are 7.5-point home team favorites which could lead to a lot of garbage time touches for Collins allowing him to rack up fantasy points.  Eat the chalk this week with Collins!
Kareem Hunt (FD: $8000 DK: $6900) @ LAC
Kareem Hunt is coming off a great rookie season where he led the league in rushing.  With new rookie quarterback Patrick Mahomes starting his first NFL game, it wouldn't be too surprising to see Andy Reid put his trust in his star running back and have him rack up the touches.  Reid has already mentioned that he wants Hunt to be more involved in the passing game.  He could accumulate 25 touches in his first game against the Chargers who will not have star Joey Bosa.  Last season, Hunt destroyed the Chargers, his week 1 opponent, for 24 and 32 fantasy points in their two matchups.  While the Chiefs are 3.5-point underdogs, the over-under is 48 which is the 5th highest this week.  Kareem should be a top 3 RB choice this week and people will likely overlook him due to his matchup and the multitude of other running back options.
Fade:
Rex Burkhead (FD: $6300 DK: $4200) vs HOU
Rex Burkhead is a popular pick to have a great fantasy season.  However, I will not be playing him in week 1 for multiple reasons.  Burkhead only started 3 games last season scoring 1, 10, and 17 fantasy points.  Burkhead looks to start this week with Sony Michel injured, he still will have to split snaps with Jeremy Hill and James White.  My biggest issue with playing Burkhead this week is the matchup. The Texans have a talented front seven with a healthy JJ Watt and Jadeveon Clowney.  Also, Burkhead has been out for most of the preseason with a knee injury and hasn't had much time to get ready for the new season.  The game has an over-under of 51, so the game looks to be a shootout so expect a lot of passing.  Burkhead is a risky play and will have to rely on a goal line touchdown or two to be a viable fantasy play for DFS purposes.
Saquon Barkley (FD: $7600 DK: $6700) vs JAX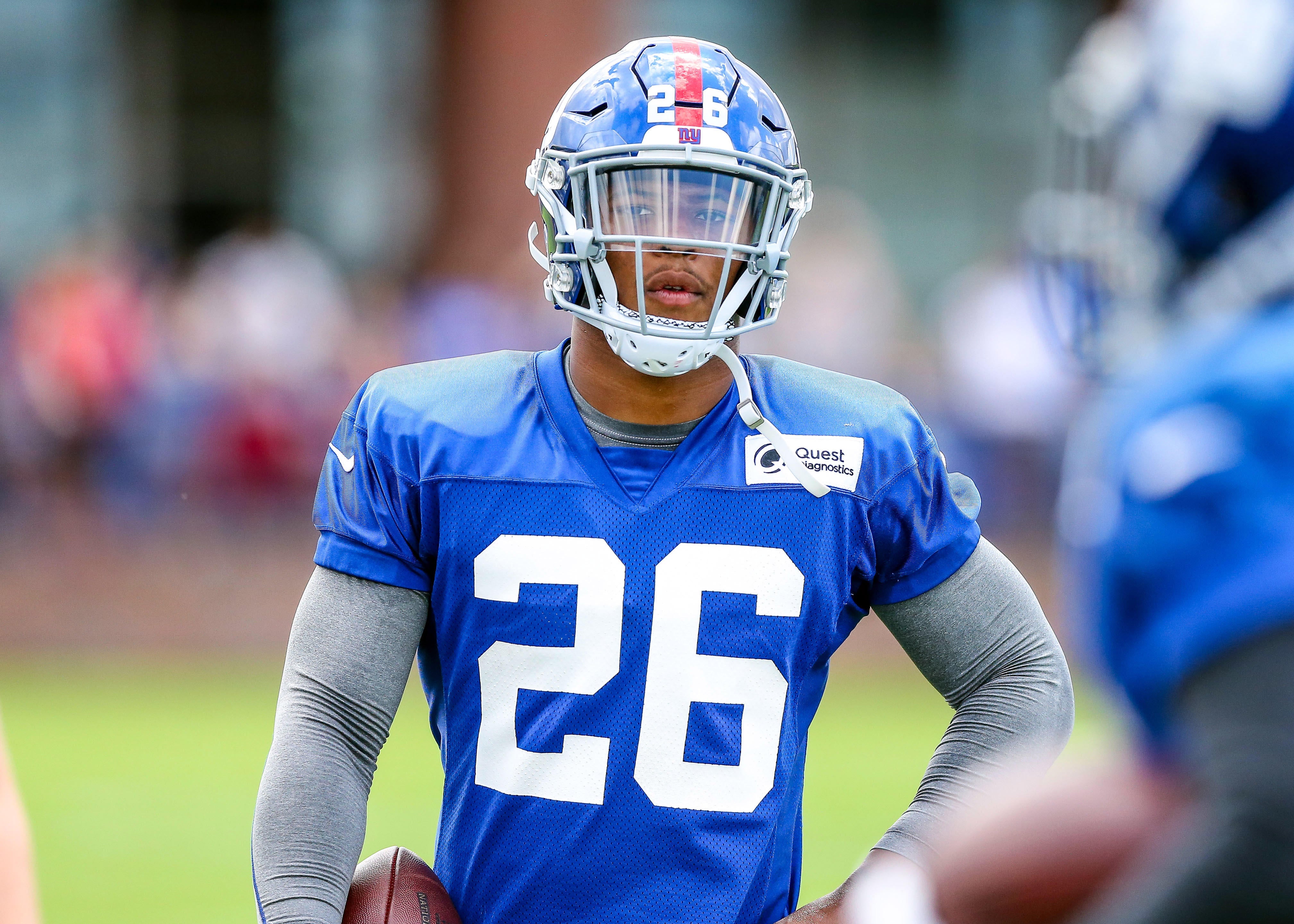 Okay, I know that you're thinking.  Barkley is supposed to be a top RB this season.  If you're looking at this from a season-long perspective, Barkley is a must play as he is likely your RB1 and first-round draft pick.  However, for DFS purposes, Barkley has to be a fade this week.  Dealing with a tough hamstring injury all preseason, Barkley has not taken an NFL snap yet.  Playing behind a questionable offensive line has to prove itself with the new additions acquired this offseason.  Also, Barkley has a very tough matchup facing the Jaguars league-leading defense.  While the Giants are only 3-point underdogs, the Jaguars could definitely pull away in this one leading the Giants to be playing from behind and less likely to run the ball.  I will not have a high exposure of Barkley this week as I feel there are much better options at the position.
Sleeper Alert:
James White (FD: $5500 DK: $4000) vs HOU
With Burkhead being a strong fade for me, James White could be a sneaky GPP play this week.  White already has a clear role on the team as the pass-catching back in a high passing offense.  Tom Brady utilizes James White when necessary which has led to some big games for the pass-catching running back, like in the Super Bowl.  The Patriots only have 3 healthy receivers for their game so White could see a lot of targets in a game of high-powered offenses.  White is a risky play but could be the key to a GPP take-down given his low price and potential breakout game.
Please make sure to follow @Kiliman2417 on Twitter. Expect to see more from him this season!