We're finally through one week of football and it feels oh so good.  Last week was all about the Saints if you wanted to win a GPP.  Michael Thomas, Alvin Kamara, and Drew Brees all had +30 point performances in a crazy shootout with, who would have guessed, the Tampa Bay Buccaneers.  This week, I'm looking to target the Saints game again in which should be another high scoring game.
Tyrod Taylor and Josh Gordon
I stated it in Wednesday's article about the biggest takeaways. That is that rushing QBs are still the most valuable plays in fantasy.  Its basically like putting in a cheat code because those rushing stats can help raise a players floor and ceiling.  We already know how bad of a game Tyrod had last week and how he was still able to finish as a top quarterback.  He was in a tough divisional game, which was also in some of the worst weather conditions for a QB.  This week he gets an even better matchup in the dome against the Saints who gave up the 3rd most rushing yards and 1st most rushing yards per attempt to QBs.  If Tyrod Taylor can resemble anything close to a competent passer, he could be in for a monster game.  Tyrod's passing weapons (Jarvis Landry, David Njoku, Duke Johnson, And Josh Gordon) all look great too.  That gets me to who I want to pair him with.  Josh Gordon is a guy who hasn't played a whole lot of football these past few years.  In his first game back, Josh was able to corral an amazing touchdown grab and gain trust from his quarterback.  I expect Josh Gordon to be a major factor this game as they more than likely will be down this game and will need those deep shots.  Look for Tyrod Taylor and Flash Gordon to be a dynamic duo this upcoming weekend.
Jimmy Garoppolo and Pierre Garcon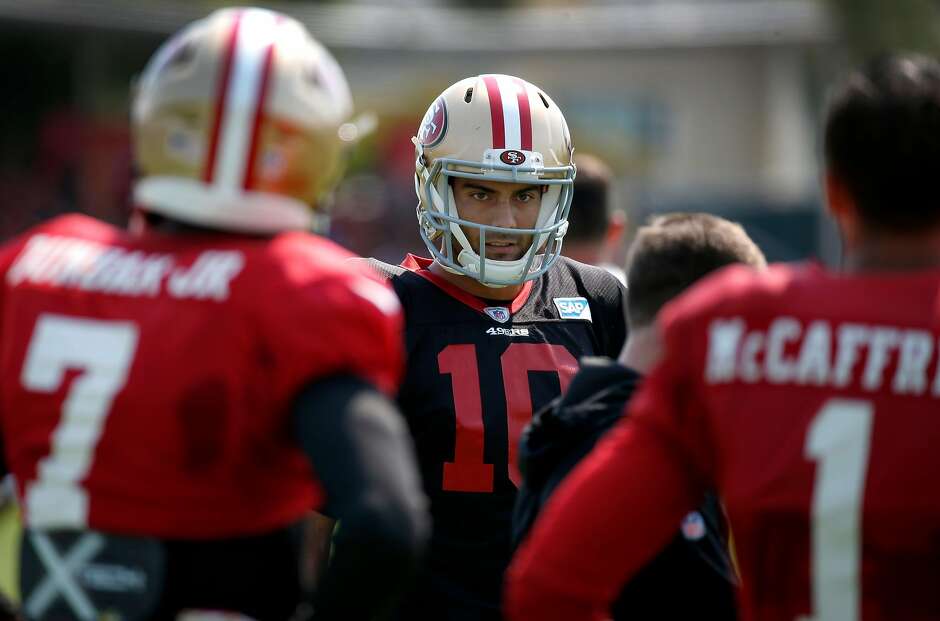 One stack which I think we can take advantage of recency bias is Jimmy Garoppolo and Pierre Garcon.  Last week the 49ers had a rough week one on the road against the Minnesota Vikings but they get a juicy matchup against lions who just let Sam Darnold, the youngest QB to ever start a game, light them up.  Last season the Lions defense ranked 27th in passing yards allowed and 16th in Pass DVOA.  With Jerick Mckinnon out for the season, the 49ers must rely on the passing game to put up points.  I think this is a good opportunity to take a shot at Jimmy G while everyone is off of him and his price is at a value. I like pairing Jimmy with Pierre Garcon who will be the top WR for the 49ers with Marquise Goodwin possibly sidelined on Sunday.  Pierre is an underrated wide receiver who got injured early last season.  He's had time to develop a connection with Jimmy all offseason and I think it will show this Sunday.  I would also take a look at Dante Pettis who might be my GPP dart of the weekend.