It's Week 2 folks! We have 7 value plays that will be key components and will allow you to pretty much fit whoever you want into your lineups. Lets' get straight to it.
Quarter Back
Alex Smith ($7,100)
Ranked as QB17
Reasoning: The 34-year old dismantled the Arizona Cardinals defense last week with a solid stat line of 21-30, for 255 passing yards and 2 touchdowns. His throws were on point throughout the game, and even completed 13 in a row at one point. This week he gets an even easier matchup at home vs the Indianapolis Colts, in what could be a potential shootout. Outside of Malik Hooker and Jabaal Sheard, the Colts have nobody relevant on this defense. Smith should easily finish the week as a top-10 QB this week.
Running Back
Tevin Coleman ($5,900)

Ranked as RB33
Reasoning: Devonta Freeman has a good chance of missing the week 2 game against the Carolina Panthers. If that's the case, then Tevin Coleman is expected to be the Freeman sat out of practice Wednesday and Thursday so he's currently not on track. Coleman looked more efficient than Freeman week one tacking on 45 total yards and a score against the defending super bowl champions. If Freeman misses this week, Coleman will likely be chalk. [UPDATE: He's OUT]
Phillip Lindsay ($4,900)

Ranked as RB60
Reasoning: It's almost laughable how players like Ronald Jones and Ameer Abdullah are priced higher than Lindsay considering both of these players were healthy scratches last week. Lindsay quickly surpassed Devontae Booker on the depth chart and ended up seeing the same amount of carries and yards as starter Royce Freeman. What made Lindsay have a better game than Freeman was the 31 receiving yards and receiving TD. I'm expecting a similar game this week against the porous Oakland Raiders defense.
Wide Reciever
Quincy Enunwa ($5,000)

Ranked as WR63
Reasoning: Fanduel is really sleeping on this guy this week. If you watched this past Mondays game of the Jets/Lions, you made a waiver claim in your seasonal leagues to get Quincy Enunwa.  My favorite week one stat is that Enunwa was targeted on 10 of QB Sam Darnold's 21 throws. That solidifies that Enunwa is the go-to on this young New York Jets offense. With the Jets at home hosting the Miami Dolphins this weekend, Enunwa will finish in the top-30 WR's on the week.
Ryan Grant ($4,900)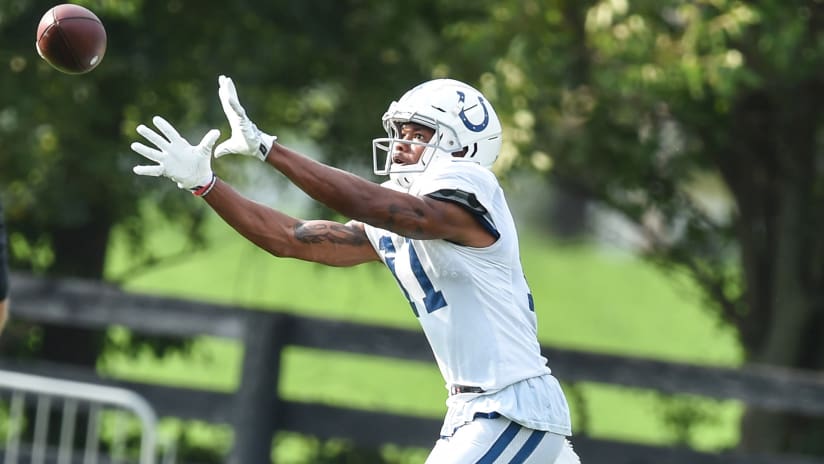 Ranked as WR69
Reasoning: I like Grant in this matchup this week against his former team, the Washington Redskins. He's gone against this secondary plenty of times in practice over the years so he knows there weak points. It's also important to note that he had 8 receptions for 59 receiving yards against the stingy Cincinnati Bengals D last week. With that being said, it's evident that Grant is the possession WR on this team. Although I do prefer Quincy Enunwa this week, Ryant Grant is a sneaky play.
Dante Pettis ($4,500)

Ranked as WR80
Reasoning: Missed out on playing Keenan Cole at minumum price Week 1? Look no further, enter Dante Pettis! At the minimum price, Pettis sees himself going into a juicy matchup opposite of Pierre Garcon against the Detriot Lions. As this week's WR2 for the 49ers, with Marquise Goodwin out, the speedster should be in a bigger role than last week and not have to worry about Darrius Slay coverage. He should be chalk and for a good reason. The opportunity is there with him starting… lock him in.
Tight End
Jared Cook ($5,000)
Ranked as TE15
Reasoning: Jared Cook absolutely shredded the Los Angeles Rams last week finishing as the TE1 overall, having a stat line of 9 receptions for 180 yards. Although he's definitely not consistently putting up those numbers, Cook is an essential piece in Jon Gruden's Oakland Raider offense. With that being said, you couldn't ask for a better TE matchup right now than the Denver Broncos. This is the same team that allowed over 100 yards and a TD to rookie Will Dissly last week while playing the Seattle Seahawks. Cook could be in store for another huge week.
Defense
New York Jets ($3,700)

Ranked as D19
Reasoning: There's no other way to say it but the New York Jets SMACKED the Detroit Lions this past Monday night. The team put up 26 FD points and didn't record a single sack. All those points came from the 5 interceptions, pick-6, and the punt return TD from Andre Roberts. I'm excited to see what they do in their teams home opener against the divisional opponent Miami Dolphins. Bold Prediction: they get their first sack of the season this Sunday.