With already a quarter of the regular season in the books, can we slow it down! I strongly wise football season was year round because the season absolutely flies by. Looking into this week, we have a couple of value plays that have to be looked at on Fanduel for this weekend's main slate. Let's get straight to it.
QB: Josh Rosen: Price: $6,400
Although the box score looks deceiving, I really liked what I saw from Rosen in his first career NFL start. Although it sounds simple enough, if the Arizona Cardinals WR's would have caught the football last week, Rosen could have had a big game. They recorded multiple big yardage drops which resulted in a poor offensive showing. He gets a juicy matchup against the San Franciso 49ers who will once again be without their top corner Richard Sherman. Rosen provides an interesting floor with every Qb that has played the 49ers this year, has at least 36 pass attempts in each game. He doesn't need 300 yards and 3 touchdowns to hit value either.
RB: Derrick Henry: Price: $5,800
Reasoning: So for those of you who didn't log off after seeing Derrick Henry's name, Thank you! If Derrick Henry was going to have a good game in 2018, I think this is his only shot. The offensive line for the Tennessee Titans finally appears to be healthy and that instantly bolsters the entire offense as a whole. This matchup against the Buffalo Bills is as juicy as it gets. They've allowed 7 rushing touchdowns in 4 games this season while making it 22 rushing touchdowns in the last 12 games. Henry does also have 2 games this year with at least 18 carries so this could bode for a positive game script for him due to the fact that the Titans should be playing with a lead for most of this game.
WR: Marquez Valdes-Scantling: Price: $4,800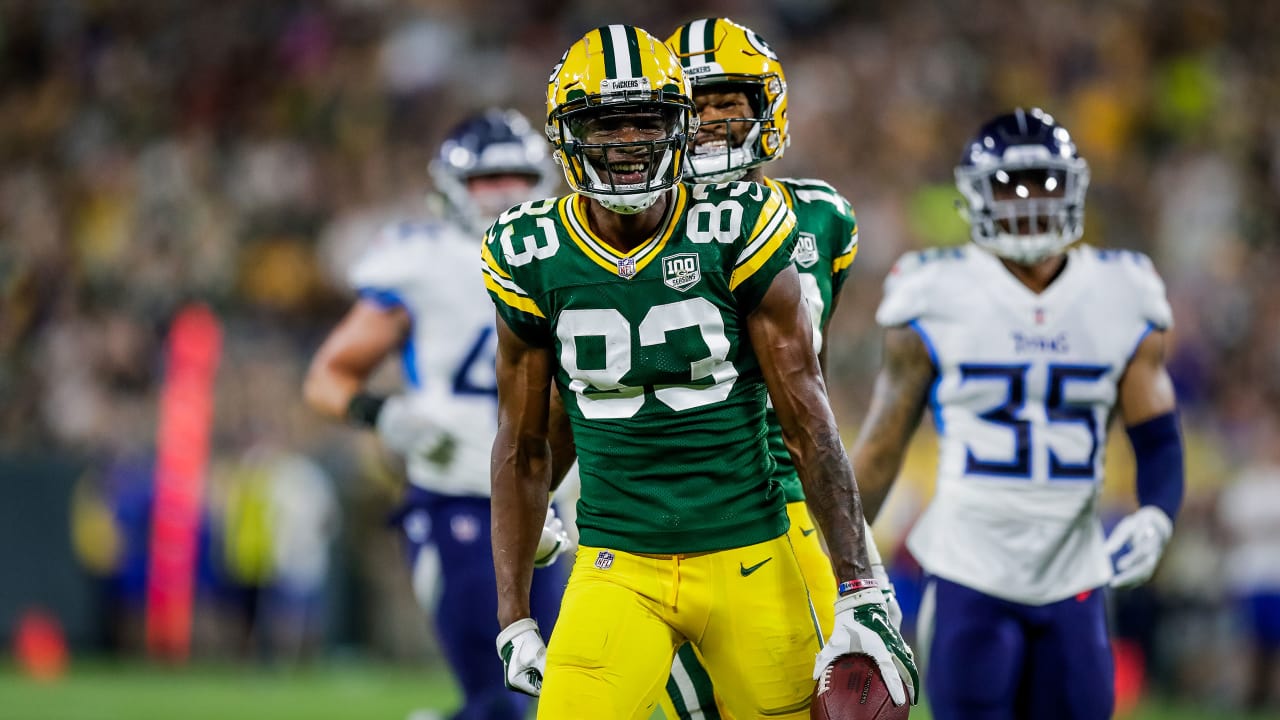 Reasoning: This could be a breakout game by Wr from USF. This Green Bay Packers receiving core is extremely banged up. Davante Adams is dealing with a calf injury, Geronimo Allison is dealing with a concussion and a hamstring injury, and Randall Cobb is out with a hamstring injury. Realistically, Adams is going to be shadowed by Darius Slay, so I'm expecting MVS to line up in the slot against Jamal Agnew. It seems too good to be true considering that MVS has run 70% of his routes in the slot and Agnew has allowed close to 12 yards per target this season. The Lions defense prides by taking away the teams best offense playmaker so I'm not expecting a huge day from Davante Adams leading the targets wide open for MVS to do his thing.
TE: Vance Mcdonald: Price: $4,600
Reasoning– This dude is a playmaker! just go ask Chris Conte. Vance McDonald is currently leading the NFL in yards after catch with an absurd 13 yards after catch. The main thing to like about Mcdonald this week is he's a cheap piece of this expected high scoring game of the Atlanta Falcons playing the Pittsburgh Steelers. The Falcons defense is arguably the worst in the league to them losing 4 of their top 10 defenders on the team. Big Ben also hasn't been able to find the deep ball this year, so check downs to Mcdonald seem reasonable. He should be a top-5 TE this week.