Here we are at week 7 and we are officially halfway through the fantasy football regular season. With that being said, it's been a pretty successful season so far here at 305. Every writer has been on their a game throughout the year and we are looking to finish strong in the second half of the regular season. This week on Fanduel we have some expected chalk, along with a sneaky WR play. Let's get straight to it!
QB- Baker Mayfield
Priced as the QB14 this week, this one seems like a gimme. The Tampa Bay Buccaneers are statistically the worst defense in the league right now. Former defensive coordinator Mike Smith has been let go due to obvious reasons. Did you know that the Buccaneers have allowed 334+ passing yards in each of the last 5 games? Also, did you know that 4 of the last 5 quarterbacks to play the Tampa Bay Buccaneers have gotten at least 3 passing touchdowns? The Buccaneers secondary has absolutely no talent around them with Brent Grimes Struggling, Chris Conte on IR, Rookies Carlton Davis, and MJ Stewart struggling. There is absolutely no way that the Buccaneers defense can keep up with Jarvis Landry, Antonio Callaway, and David Njoku. Baker Mayfield was the #1 overall pick this offseason for a reason. I truly think he will be special and this will be his break out game this Sunday.
RB- Nick Chubb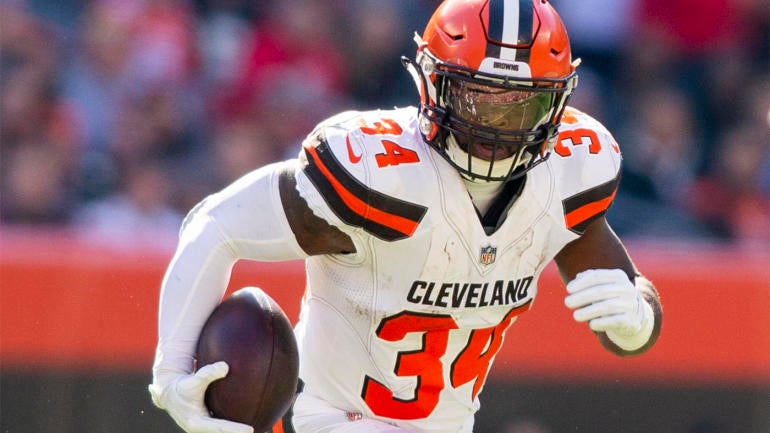 B2B Cleveland Browns? What is going on this year? Nick Chubb is priced as the RB45 this week on Fanduel and will most certainly be chalk. In case you missed it, Carlos Hyde was traded to the Jacksonville Jaguars for a 5th round pick. With that transactions, it skyrockets Chubb as the teams starting RB. I'm playing Chubb based on his price and role in this offense, but let it be known that the Buccaneers have been quietly good against the run this year. We haven't seen a single RB rush for more than 65 yards against the Buccaneers this season, and that includes RB's like Alvin Kamara, Tevin Coleman, Jordan Howard, and James Conner. I do like Chubb as a workhorse back though. Back when he played for Georgia, he had 3 seasons of 10+ games with 1,100+ rush yards and 8+ touchdowns in each season. Regardless of the matchup, you like the cheap starting RB with upside in what should be a high scoring game.
WR- Willie Snead
Priced as the WR44, this is a very sneaky play this week. While Michael Crabtree (WR16), and John Brown (WR19) are priced high, you can get someone with the same upside on the same team, for $2k cheaper. Being honest, its hard not to see Snead be the best WR on the team this week. In his last 3 games, Snead is starting to return to his way when he was a New Orleans Saints. He is averaging around 7 targets, 5 catches, and 55 yards. This provides a very safe floor and upside for this week. Do you believe in narratives? Snead in Baltimore will host his former team the Saints. With a 49 point over/under, I could very well see a big game from Snead this week, maybe even a long TD against the old team. Yes, yes, I have a need for Snead. You get it? need for speed? ok, I'll see myself out.
WR- Trequan Smith
riced as the WR51 this week, this is just crazy. With Tedd Ginn Jr officially placed on the IR with a knee injury, It's officially Trequan SZN boys and girls. Anytime a playmaker with his skill set gets catapulted into the starting lineup and your QB is Drew Brees, yeah your going to have fantasy value. Let's not forget that 2 weeks ago, that Trequan already had his breakout game with 3 receptions, for 111 receiving yards, and 2 touchdowns. For him already to have a game like that and with Ginn out, Trequan is criminally underpriced. Expect him to get his looks in a game that Drew Brees is going to be trying to win, considering the Baltimore Ravens are the only team in the league that Brees hasn't beaten.